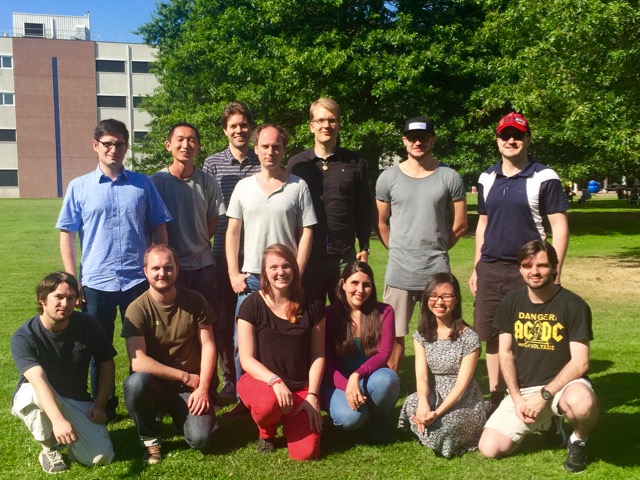 Overview and Location
The organization team for the COSEAL Workshop in 2016 warmly invites you to Eindhoven. The Netherlands for the fourth annual COSEAL Workshop on September 12th and 13th of 2016.
The workshop will consist of posters and talks about late-breaking research and useful tools, discussions regarding intra- and international cooperation, and copious opportunities to interact with other attendees.
Here is the important information:
Where Eindhoven University of Technology; De Rondom 70,
5612 AP Eindhoven. Room MMP 3 in the Innovation Center.
When September 12-13, 2016

Monday: 10:00 – 18:00
Tuesday: 09:00 – 12:00

Contact E-mail: Joaquin Vanschoren <j.vanschoren "at" tue.nl>
Technical Program
Monday (12 September, Room MMP 3)
09:30-10:00: Walk-in (coffee, fruit, cake)
10:00-11:00: Welcome and Updates
11:00-12:15: Technical Talks + Poster highlights (3″)
12:15-14:00: Lunch
14:00-15:00: Poster session 1
15:00-15:30: Break
15:30-16:00: Group discussion: Where does COSEAL go next?
16:00-17:00: Group discussion: Challenges in the configuration and selection of algorithms.
20:00: Dinner. Afghani en zo (http://www.afghani.nl/) – meet at Market Square (in front of Queen Hotel) at 19:45
Tuesday (13 September, Room MMP 3)
09:30-10:00: Walk-in (coffee, fruit, cake)
10:00-11:15: Technical Talks + Poster highlights (3″)
11:15-12:15: Poster session 2
12:15-12:30: Closing
12:30-14:00: Lunch (TBA)
14:00-16:00: Social Activity (Activity depending on the weather)
Talks – Monday
Markus Wagner, Marius Lindauer, Mustafa Misir, Samadhi Nallaperuma, and Frank Hutter: A case study of algorithm selection for the traveling thief problem
Katharina Eggensperger: Efficient Benchmarking of Algorithm Configuration Procedures using Model-Based Surrogates
Marius Lindauer: On-going Projects in ML4AAD
Talks – Tuesday
Markus Wagner: Optimisation on smartphones: opportunities for configuration and selection of algorithms
Bernd Bischl: Multi-Objective Parameter Configuration of Machine Learning Algorithms
using Model-Based Optimization
Leslie Perez Caceres, Thomas Stuetzle: COSEAL Workshop 2016 at ULB /IRIDIA.
Posters – Monday
Markus Wagner: Fast and Effective Multi-Objective Optimisation of Submerged Wave Energy Converters
William Raynaut: Instance characterization for meta-learning
Nguyen Dang: Tuning irace using surrogate benchmarks
Marius Lindauer: Efficient Parameter Importance Analysis via Ablation with Surrogates
Leslie Perez Caceres: The irace package: New developments and current research
Posters – Tuesday
Bernd Bischl et al.: mlr – Machine Learning in R
Bernd Bischl et al.: mlrMBO – a toolbox for model-based optimization in R
Jakob Bossek: Understanding Characteristics of Evolved Instances for State-of-The-Art Inexact TSP Solvers with Maximum Performance Difference
Hans Degroote,

Bernd

Bischl, Lars Kotthoff, Patrick De Causmaecker. Reinforcement Learning for Automatic Online Algorithm Selection
Participants
Marius Lindauer
Markus Wagner
Giuseppe Casalicchio
Janek Thomas
William Raynaut
Bernd Bischl
Xudong Sun
Rafael G Mantovani
Nguyen Dang
Katharina Eggensperger
Jakob Bossek
Jan van Rijn
Nacim Belkhir
Social Program
On Monday evening there will be a social dinner. We are currently considering to make a reservation in a nice Afghani restaurant: http://www.afghani.nl/ On Tuesday afternoon (for those who stay longer), we'll go for a social lunch and a social activity. Depending on the weather we may do a cycling trip in nature or another group activity.
Venue
We got a room in the Innovation Lab, which is lucky because this is the start of the semester and everything is full. This is a cosy place, tucked away in a corner of the campus. However, it's 15-20 min walking from the train station, or 6 min by bus.
Hotels
There are several hotels nearby, indicated on the map below. I recommend the Queen or Crown Inn. There is also the cheaper Van Neer hotel (outside city center), or the more upscale Hampshire
Locations (Hotels and Venue)
Connection
There is a bus service from the train station. Take bus 104 at the station (leaves every 15 minutes in the morning), and descend at the second stop (De Lismortel). Tickets should be about 1 Euro Timetable and map can be found here: https://goo.gl/AmEECp
Please note
While registration is free,  we do not have funding; hence lunch and dinners will be on your own expense.
Registration
Please register here.
Contact