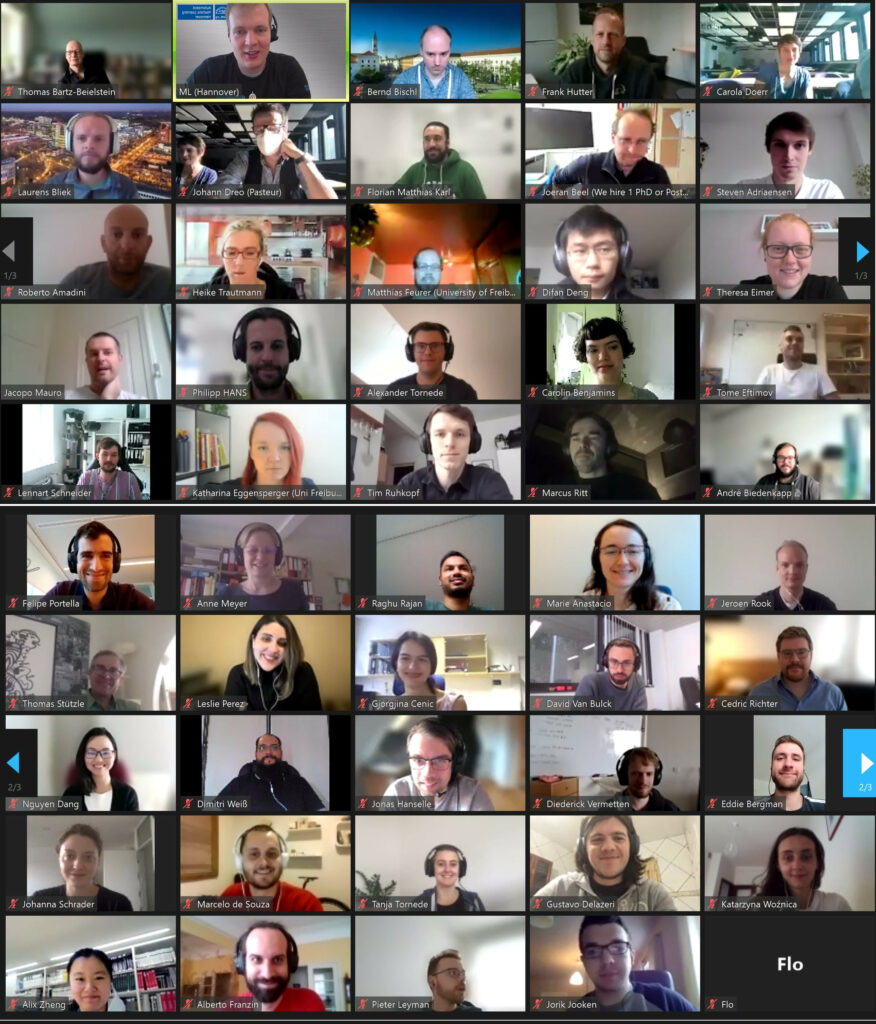 Overview
The eighth COSEAL Workshop is a forum for discussing the most recent advances in the automated configuration and selection of algorithms. It will take place on September 17th and is organized by Bernd Bischl and Marius Lindauer .
The workshop will consist of posters and talks about late-breaking research and useful tools, discussions regarding intra- and international cooperation, and many opportunities to interact with other attendees.
Contact
Administrative questions : lindauer@tnt.uni-hannover.de
Scope of the Workshop
The scope of COSEAL includes, but is not limited to:
Algorithm selection
Algorithm configuration
Algorithm portfolios
Performance predictions and empirical performance models
Bayesian optimization
Hyperparameter optimization
Automated machine learning (AutoML)
Neural architecture search
Meta-learning
Algorithm and parameter control
Explorative landscape analysis
Programming by optimization
Hyper-heuristics
Important dates
Registration deadline : Sept. 1st
Talk/poster abstract deadline : Sept 1st
Poster submission deadline: Sept 13th
Workshop : September 17th 2021
Location
COSEAL 2021 workshop will be an virtual workshop with talks in Zoom, and poster sessions and social event in gather town.
Registration Fees
None! For free!
Registration and Applications
CLOSED
Tentative Schedule
Time slots according to CEST:
08:45 – 09:00: Joining the Zoom call, small-talk and enjoy a tee or coffee together
09:00 – 09:15: Opening
09:15 – 09:45: Contributed Talk I (20+10)
09:45 – 10:15: Contributed Talk II (20+10)
10:15 – 10:45: Coffee Break with Speed Dating in break out-rooms (15min with a small set of random attendees)
10:45 – 12:00: Poster Session I (in Gather Town)
12:00 – 14:00: Lunch break
14:00 – 14:30: Contributed Talk III (20+10)
14:30 – 15:00: Contributed Talk IV (20+10)
15:00 – 15:30: Coffee Break with Speed Dating in break-out rooms
15:30 – 17:00: Poster Session II (in Gather Town)
17:00 – 18:00: Panel Discussion
18:00 – open end: Social event
Contributed Talks
Contributed Talk I: Jacopo Mauro and Roberto Amadini: Algorithm Selection with SUNNY: past, present and future
Contributed Talk II: Laurens Bliek: EXPObench: Benchmarking Surrogate-based Optimisation Algorithms on Expensive Black-box Functions
Contributed Talk III: Marie Anastacio: Statistical Comparison of Algorithm Performance Through Instance Selection
Contributed Talk IV: Dimitri Weiß: Gray Box Realtime Algorithm Configuration
Poster Session I
Eftimov, Tome: Personalized Machine Learning Models for Performance Prediction for Black-Box Optimization Problems
Deng, Difan: Auto-PyTorch for Time Series Prediction
Benjamins, Carolin: Dynamic Algorithm Configuration with Bayesian Optimization (DAC-BO): Learning Dynamic Hyperparameters through Reinforcement Learning.
König, Matthias: Speeding Up Neural Network Robustness Verification via Algorithm Configuration
and an Optimised Mixed Integer Linear Programming Solver Portfolio
Biedenkapp, André and Adriaensen, Steven: Dynamic Algorithm Configuration: The Journey so Far
Eggensperger, Katharina: HPOBench: A Collection of Reproducible Multi-Fidelity Benchmark Problems for HPO
Tornede, Alexander: Multi-Armed Bandits for Online Algorithm Selection under Censored Feedback
Dang, Nguyen: Dynamic Algorithm Configuration for the 1+(lambda,lambda) Genetic Algorithm
Hanselle, Jonas: Algorithm Selection via Hybrid Ranking and Regression
Sass, Rene: DeepCAVE: A Versatile Tool for Explaining AutoML
Poster Session II
Vermetten, Diederick: IOHprofiler: A Benchmarking platform for the Performance of Iterative Optimization Heuristics with Improved Logging and Visualization
Woźnica, Katarzyna: metaMIMIC: analysis of hyperparameter transferability for tabular data using MIMIC-IV database
Tornede, Tanja: Green AutoML: Towards more Sustainable Automated Machine Learning
Meyer, Anne and Bessai, Jan: Decision Pipeline Synthesis
Feurer, Matthias: Auto-Sklearn 2.0: Hands-free AutoML via Meta-Learning
Rajan, Raghu: Population Based Bandits with Backtracking (PB2-BT)
Paleta, Leonard: On perfect Roman domination under some binary operations of graphs
Eimer, Theresa: DACBench: A Benchmark library for Dynamic Algorithm Configuration
Pérez Cáceres, Leslie, de Souza, Marcelo, Lopez-Ibanez, Manuel and Ritt, Marcus: Evaluation of Random Forest importance measures for Algorithm configuration
Kostovska, Ana: OPTION: An OPTImization algorithm benchmarking ONtology
Dreo, Johann: Using Irace, Paradiseo and IOHprofiler for Large-Scale Algorithm Configuration
Panel Discussion
Topic: Validation and Explaining Meta-Algorithmics
Moderator: Janek Thomas
Panel members:
Thomas Bartz-Beielstein
Johann Dreo
Leslie Pérez Cáceres
Bernd Bischl
Marius Lindauer
Frank Hutter
Sponsors
Supported by
Florian Karl (Ludwig-Maximilian University Munich)
Daniel Ritter (Leibniz University Hannover)